How Do You Create New Vows and Commitments?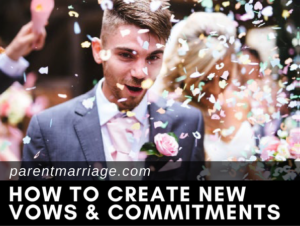 I just attended a wedding where the week before the bride and groom traded vows as posts to each other's Facebook wall. I thought that was a great idea to share commitments between friends and family as a good run up to the wedding and to include those who were not invited or could not attend.
The couple did not exchange those vows at the wedding. Later at the reception I told the bride how much I enjoyed reading the vows online and was wondering why they were not used in the ceremony? She told me, "We tried, but it was too much work." So we just went with the default ones our preacher recommended. I remember how much pressure a wedding is.
My wife and I wrote our our vows and said them to each other. We did it again 10 years later when we celebrated our anniversary. We made new commitments to each other as our life had changed so much, and we also let go of what no longer serves us.
If I asked you or your spouse what your wedding vows are would they know? I know most wouldn't. When I coach CEO's and I ask them the vision, values, and mission of their organization, they usually don't know that either. Business just want to be profitable. Marriages just want to be happy. Your vows are how you are going to do that in your marriage. Bring them to the top of your mind and they will have the power to guide and serve you.
Check in next week for How To Let Go Of What No Longer Serves You.

Matthew W. Hoelscher
Head Coach – Parent Marriage Coaching
Phone: 305.986.2905
matt@miamiexecutivecoach.com
www.parentmarriage.com